The Industry's Leading Wear Resistant Hardbanding

Compatible With Every Major Hardbanding Product

Industry-Best Tool Joint Protection

Very Casing-Friendly

Non-Cracking (Single and Double Layer)

No Spalling, Chipping, or Flaking

Re-Application Without Previous Layer Removal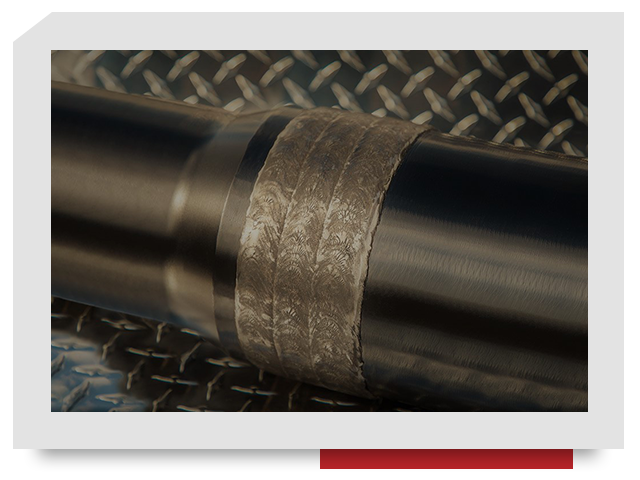 Arnco's 350XT
®
 is a metal-cored wire that produces a highly wear-resistant, hard (greater than 60 HRC), tough, and casing-friendly, NON-CRACKING deposit.
The ability to achieve such exceptional durability, while being casing-friendly and crack-free, is metallurgically based on carbides and borides that produce a grain structure forming tightly arranged hard phases interspersed in a strong, ductile matrix. The small nature of the carbides and borides puts less stress on the matrix allowing for a crack-free deposit and superior durability.

For more information, download our Product Data Sheet.
350XT
®
 can easily be applied on new tooljoints or re-applied over itself without removal of the previous layer. The material can also be applied over Arnco's 100XT
™
 and 150XT
™
, as well as most comparable products with proper procedures.
When applied, 350XT
®
 produces a smooth, crack-free deposit with very little spatter, requiring minimal post-weld cleanup. With 350XT
®
's best-in-class wear resistance for non-cracking hardbanding solutions, you won't need to reapply as often as competing products, improving your ROI. As the most durable, casing-friendly, and non-cracking hardbanding solution on the market you can't go wrong with Arnco's 350XT
®
.

Use the calculator below to determine how much hardbanding alloy you will need for your specific job:
you may also be interested in:

The 150XT™ was developed to be a crack-free, competitively priced hardbanding product with extremely low casing wear and high wear resistance for tool-joint protection.

300XT™ has long been considered the industry's most wear-resistant hardbanding product and is a favored choice by many international operators and drilling contractors for drill pipe and casing protection.