Hardbanding is the process of depositing a layer of super hard metal onto drill pipe tool joints, collars and heavy weight drill pipe in order to protect both the casing and drill string components from wear associated with drilling practices.
The Petroleum Industry Glossary:
"Hardbanding is the process of laying on a coating or surface of [super-hard metal] on a [softer metal part] at a point or on an area of severe wear or abrasion – putting a hard surface on a softer metal by welding or other metallurgical process."
The need for hardbanding arose decades ago when drilling contractors and operators wanted a way to protect casing and extend the life of costly drill string equipment from wear associated with rotational and axial forces while drilling and tripping in and out of a well.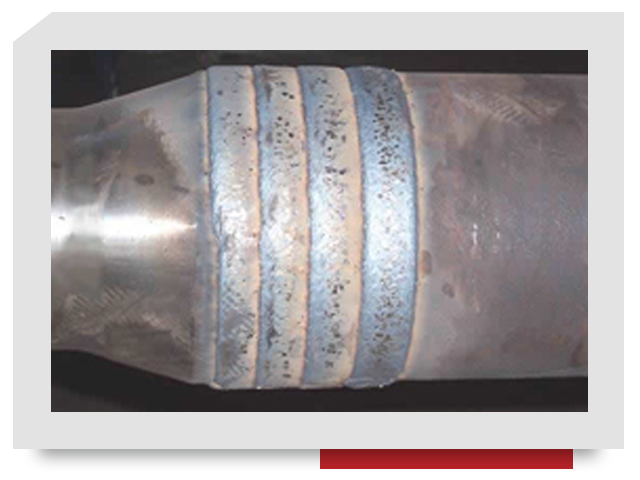 Initially, tungsten-carbide particles were dropped into a mild-steel matrix, remaining the industry standard for many years. However, well owners soon realized that while the tool joint was well protected, the tungsten-carbide particles were often acting as a cutting tool against casing, causing extreme rates of wear and occasional total casing failure. To address the critical need for a casing-friendly hardbanding product that could adequately protect tool joints and other down hole tools, Arnco pioneered the casing-friendly hardbanding industry by utilizing an advanced alloy from it's sister company Alloy Products Group, a subsidiary of Triten Corporation.
Since that time, the drilling industry has become increasingly complex, requiring the need for more advanced alloys that address a spectrum of hardbanding needs from high durability, to low casing wear to ease of use and compatibility with other hardbanding materials in the field. Competitive hardbanding products must now be able to protect drilling and casing components, but also withstand extreme pressures and temperatures experienced in today's critical wells.
Arnco has invested heavily in R&D resources and aligned with technology partners who are able to provide superior alloy design methodology to quickly address the changing needs of the industry.
Arnco's hardbanding products were designed to be non-cracking, high performance alloys that cover the spectrum of wear protection needs by end-users. Whether focused on casing wear reduction or drill string life extension, use of Arnco's hardbanding products produce real economic benefits for pipe owners and well operators.
As an industry standard, Arnco is used by hundreds of operators, drilling contractors and pipe rental companies worldwide. Arnco hardbanding products are specified and used in every active drilling region around the world, and have become the longest standing and most widely used hardbanding products on the market.