No More Buying New Tubing, Refurbish The Connections Instead
Arnco's Heat-less Welding Solutions allow you to rebuild and extend your workstring tubing connections, to bring the OD back to nominal and get more recuts, rather than having to buy new joints.
Repair Workstring Tubing Connections with Ease
Workstring tubing is used much like drill pipe, but its connections are very thin and, until now, difficult or even impossible to rebuild or extend. Instead of applying a single band of hardbanding and hoping for the best, Arnco's Heat-less Welding Solutions allow for the application of multiple, continuous bands of buildup material to thin tubing connections. This is designed to maintain the tensile and torsional strength of the connections with no noticeable changes visually or during operations.
Workstring Tubing Connection Refurbishment
For more information about workstring tubing connection refurbishment, download our Case Study.

Before ever putting any refurbished tubing downhole, Arnco performed extensive testing to prove that the material properties don't change. Once this was clear, Arnco performed downhole field trials to prove there were no cracks or changes to the connections in any way. Now, over a year later, tens of thousands of feet of tubing with refurbished connections have been downhole with absolutely no issues.
Pipe owners are faced with multiple dilemmas: supply chain issues, rising steel prices, increasing demand. Why buy new tubing, if you even can, when you can fix your current tubing? Arnco is able to refurbish workstring tubing connections for around half the cost of a new joint of tubing, in much less time than it takes for a new order to arrive. This keeps your existing inventory in service and helps meet your customers' needs. It's time to save the pipe!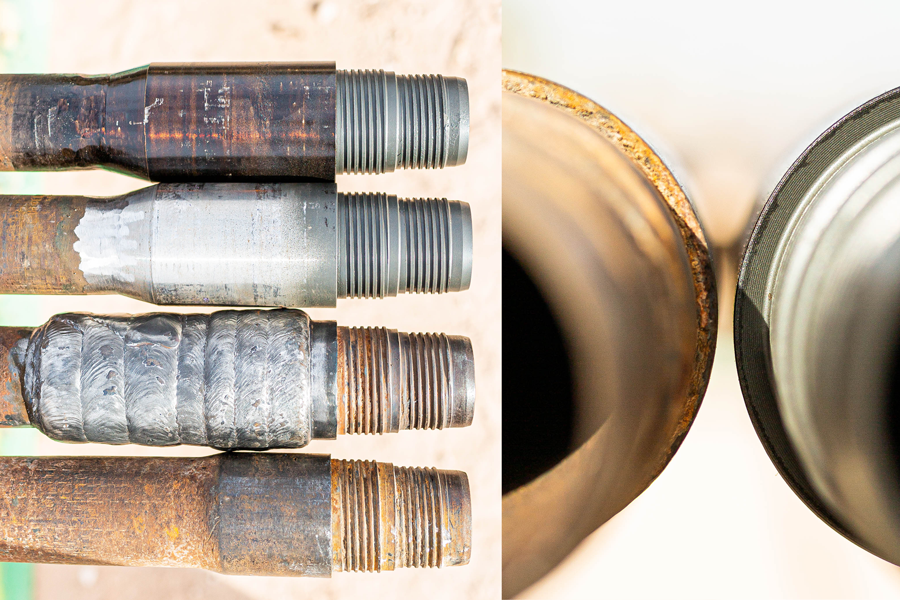 Increase Lifespan
Return useless workstring tubing to like-new with refurbished connections

Save Money
Get tubing back into service and making money for around half the cost of a new joint

Avoid Long Lead Times
Don't wait on tubing manufacturers anymore; get your tubing connections refurbished quickly so you can get them back into service

Reduce Risk
Work safely with a computer-controlled welding system, with less room for human error

Embrace the Future
Use the same advanced welding technology in the oilfield that SpaceX uses to build rockets